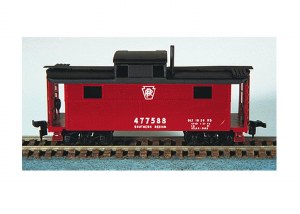 PRR N-5 CABOOSE KIT
NEW STYLE LETTERING, SOUTHERN REGION

The N-5 was the world's first all-steel cabin car. Produced in 1914 by Lines East, these cars were equipped with archbar, leaf-spring trucks and small tool boxes under their sides. While it was referred to as a center cupola, the N-5 cupola was actually 12-1/2" off center. It had a brake lever on each end of the platform instead of the brakewheel. Over the years some changes occurred: the top lights and tool boxes were removed, Ajax brakewheels replaced the brake levers, AB brakes replaced the K style brakes, coil-spring trucks were replaced by leaf-spring trucks, and new end sills, collision posts and new end railings were also added. The stove and chimney were moved from the end of the car closer to the cupola. There were a total of 616 cars built during this era. Antenna support system is not included.

WARNING: CHOKING HAZARD - SMALL PARTS! NOT INTENDED FOR CHILDREN UNDER 3.
Customer Reviews
This product has not yet been reviewed.