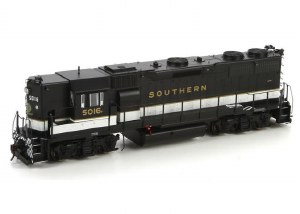 SR GP38-2 #5016
SOUTHERN RAILWAY (OIL-BATH FILTERS)

Key Features

All-new tooling
Soundtraxx Tsunami factory installed
81" high nose
Hood-end mounted bell
EMD optional "switcher" stepwells
Early dynamic extended-range dynamic brake housing with resistor grid details, and oil-bath air filters
Front and rear Nathan P-3 horns with all-forward chimes (all-new castings)
Lost-wax brass "Firecracker" radio antenna
Dual control stands
Dual-panel "chicken wire" style radiator intake grills
Wide-spaced 48" radiator fans
Separately-applied lost-wax brass long hood walkway lights (all-new castings)
Early ECAFB (stand-off style)
MU hose "catch" trays on pilots
Early under cab access door
Early battery box door with short louvers
Dual-end sanding lines
Dual "Salem" air filters w/ piping
2600 gallon fuel tank
McHenry scale knuckle spring couplers
Separately applied wire grab irons
Window glazing
Operating headlights utilizing microbulbs.

WARNING: CHOKING HAZARD - SMALL PARTS! NOT INTENDED FOR CHILDREN UNDER 3.
Customer Reviews
This product has not yet been reviewed.