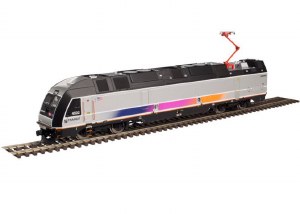 NJT ALP45-DP #4512 DCC & SOUND
The ALP-45DP is a "dual mode" locomotive, capable of drawing power from either overhead electrical wires or its own pair of 12-cylinder Caterpillar diesel engines. These flexible locomotives were designed to provide a one-seat commute from NJ TRANSIT's various diesel-only lines into the electrified territory that leads to New York City's Penn Station. This fulfills the requirement of not operating diesels through the North River Tunnels and within the subterranean Penn Station complex. Produced by Bombardier Transportation in Kassel, Germany, the first ALP-45DP locomotive entered service on NJ TRANSIT on May 30, 2012.

NJ TRANSIT's 35 ALP-45DP locomotives are commonly seen on commuter trains traversing the Morristown Line, Montclair-Boonton Line, Raritan Valley Line, and North Jersey Coast Line. These lines do not have overhead electrical wires for their entire length, necessitating a change of power source somewhere en-route. Previously, locomotives or entire trainsets would have to be changed, inconveniencing riders. The ALP-45DP alleviates this need, performing the switch from diesel to electric power (or vice versa) in just under two minutes during a routine station stop.

Features:

Designed from prototype drawings and field research with the cooperation of NJ TRANSIT
Illuminated directional LED headlight/ditchlights and red marker lights
Pantograph (non-functioning) can be positioned up or down
Five pole skewed armature motor with dual flywheels for optimum performance at all speeds
Factory-applied railings, air horn, and antenna details
Grab irons packed separately for customer application (includes drilling template)
Equipped with Kadee® metal couplers

Gold version includes:

ESU LokSound decoder, supporting all DCC programming modes
Flexible mapping of function keys F0 to F28
A total of six DCC function outputs
Follows all NMRA DCC standards and recommended practices

IMAGE SHOWN IS A REPRESENTATION. THE ACTUAL ROAD NUMBER IS IN THE PRODUCT DESCRIPTION.

WARNING: CHOKING HAZARD - SMALL PARTS! NOT INTENDED FOR CHILDREN UNDER 3.
Customer Reviews
This product has not yet been reviewed.