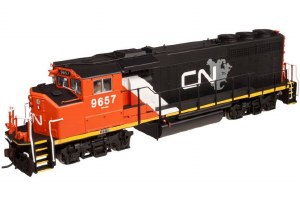 CN "CNNA" GP40-2(W) #9645
CANADIAN NATIONAL - DCC & SOUND

In 1973 Canadian National (CN) designed the safety cab, also known as the comfort cab, which featured a full-width nose that was intended to improve crew safety in the event of a collision. The first CN locomotives to feature this cab were GMDD GP38-2s and MLW M420s. GO Transit ordered the first safety cab equipped GP40-2s in 1973 with a three-unit order. CN then ordered their first safety cab GP40-2s from GMDD in 1974. Using CN's locomotive classification system, these locomotives were assigned the designation GF-430 (General Motors, Freight, 4-axle, 3000hp). Letters are added after this designation to denote the separate orders for a given model.

Our model represents the GF-430d series, of which 34 were built in 1976: CN 9633-9667. This order was constructed using a standard GP40-2 frame. Earlier GF-430 models were built on a frame that was a noticeable 4-5 inches taller. GO Transit would order a total of 11 safety cab equipped GP40-2s and all were built with similar dimensions to the CN GF-430d series. These units were later sold to Canadian National and renumbered as CN 9668-9677.

The terminology "early" and "late" is used when referring to various road names on this run. "Late" CN and former CN units feature ditch lights, snow shields and have their air horn relocated to the top of the long hood. GO Transit units will be "early" in that they will not include ditch lights or snow shields, and the air horn will be mounted above the bell.

This GP40-2(W) model features many prototype-specific and separately-applied details, including:

Two Rear Long Hood Styles: CN (single light w/o number boards) and GO Transit (dual lights w/number boards and class lights).
3,000 Gallon Fuel Tank
CN-Style Lighted Ditch Lights (optional)
Snow Shields (optional)
Round or Square Sand Fill Hatches
Cab-Mounted Bell
Three-Chime Air Horn Mounted on Cab or Long Hood
Etched Metal Radiator Fan Grilles

Also includes "standard" features of the GP40-2 model:

Golden-white LEDs
Realistic die-cast underframe
Five-pole skewed armature motor with dual flywheels for optimum performance at all speeds
Directional lighting
Factory-equipped with AccuMate® knuckle couplers
Detailed cab interior with crew figures
Separately-installed scale windshield wipers, grab irons and fine scale handrails
Movable drop steps
Walkway safety tread
Coupler cut levers
Multiple unit hoses and trainline hoses
Snowplow

Atlas Master™ Series Gold Additional Features:

DCC
Sound-equipped

IMAGE SHOWN IS A REPRESENTATION. THE ACTUAL ROAD NUMBER IS IN THE PRODUCT DESCRIPTION.

WARNING: CHOKING HAZARD - SMALL PARTS! NOT INTENDED FOR CHILDREN UNDER 3.
Customer Reviews
This product has not yet been reviewed.