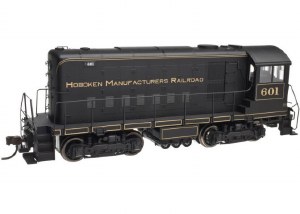 HM HH600/660 #601 DCC & SOUND
HOBOKEN MANUFACTURERS #601
Features:

All new tooling
Early Blunt truck with separate brake cylinders, molded coil spring detail (optional) and metal truck chains
Separately-applied metal grab irons and lift rings
Separately-applied fine scale handrails and stanchions, coupler cut lever and piping
Directional lighting with golden-white LEDs
Five-pole skewed armature motor with dual flywheels for optimum performance at all speeds

Atlas Master™ Series Gold Additional Features:

Electronic Dual-Mode® Decoder (e-DMD) that allows your locomotive to run in DCC or traditional DC

QSI® Quantum System™ Features Including:
(Atlas Master® Series Gold locomotives only)

NEW! Quantum Revolution Technology
Compatible with the NMRA DCC Standards and RPs
Supports 2 and 4 Digit Addressing
Programmable acceleration, deceleration & starting voltage
Complete sound file downloading supports cut & paste or editing of sound records
Analog Control using the Quantum Engineer™
High quality 16 bit digital sound with 8 Sound Channels
Individual, adjustable volume controls
Authentic diesel engine sounds; other sounds include air horn/bell, Doppler effect, brake squeal, coupling/uncoupling/air hose parting, and more!
Stat Chat, Verbal Audible response to programming commands
Sound of Power by Load Conditions
Improved Notching and Transitions

Note: Due to the higher starting voltage required to operate the sound system, it is not possible to MU a non-sound-equipped loco in DC (analog) mode

WARNING: CHOKING HAZARD - SMALL PARTS! NOT INTENDED FOR CHILDREN UNDER 3.
Customer Reviews
This product has not yet been reviewed.