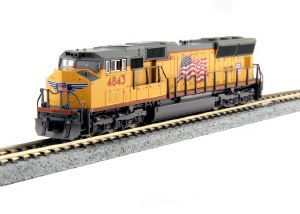 UP SD70M #4843 W/TCS DCC
UNION PACIFIC

Prototype Information:

Introduced in 1992, EMD SD70M was a 4000 horsepower locomotive that ran on EMD's new steerable truck design, known as the HTCR-II radial truck. This new truck allowed the locomotive to transfer its power to the rails more efficiently, which in turn enabled two SD70M locomotives to pull a train that would have taken 3 SD40-2's to pull. The DC brother of the SD70MAC, the SD70M was primarily put to work hauling coal trains due to its high pulling capacity.

Model Information:

These models will be equipped with all-wheel electrical pick-up and blackened metal wheels in trucks that replicate the HTCR Phase II trucks. The NS and UP versions will feature a Phase II Wide Cab and Flared Radiators.

Model Features:

Powerful five-pole KATO motor with dual brass flywheels
Floating-axle shock-absorber design to maximize tracking and performance
Directional Headlight and illuminated, preprinted numberboards
Kato magnetic knuckle coupler
TCS DCC decoder installed.

WARNING: CHOKING HAZARD - SMALL PARTS! NOT INTENDED FOR CHILDREN UNDER 3.
Customer Reviews
This product has not yet been reviewed.