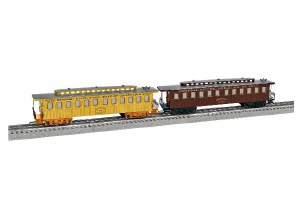 CP 1860'S COACH 2 PACK
1 WITH SOUND, 1 WITHOUT SOUND

CENTRAL PACIFIC

BUILT TO ORDER

10% DEPOSIT REQUIRED FOR PREORDER

Expected Arrival : Q1-2020

The 1860s and 1870s saw rapid changes in the design and construction of passenger equipment as railroads expanded rapidly and competition and customers demanded the latest in innovations. These coaches depict a monitor style roof car typical of construction from the late 1860s to the late 1870s. The Union Pacific took one of the last orders for this style of coach for their new cars in 1881. While every road had their own unique twist, cars of this general form and size were common all across the country, including the new Transcontinental Railroad following its completion.

An early competitor to Pullman, the Woodruff Sleeping and Parlor Coach Company offered sleeping and first class accommodations on routes all across the country in the late 1870s and early 1880s. These lavish cars could be found on premier trains nationwide and are a fitting complement to any of the coaches. Each set includes a pair of cars with die-cast trucks and drawbars which allow them to be coupled to our brass 4-4-0s. (After all, knuckle couplers are still a couple of decades ahead!)

Estimated ship date : January 2020

FEATURES:

Die-cast trucks
Metal frames
Drawbar couplers

Product Specifications:

Gauge: O Gauge
Minimum Curve: O31

WARNING: CHOKING HAZARD - SMALL PARTS! NOT INTENDED FOR CHILDREN UNDER 3.
Customer Reviews
This product has not yet been reviewed.