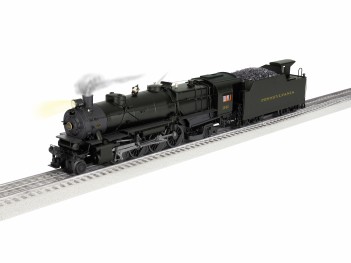 PRR LEGACY L1 MIKADO #1343
PRE-ORDER

PRE-ORDERS REQUIRE 10% DEPOSIT

Sharing a boiler and many other parts with its more popular sister the K4, the Pennsylvania L1 was standard freight power for the Standard Railroad of the World. And with 525 of them, they were a common sight indeed! Although larger and more specialized locomotives would take the spotlight in later decades, the majority of L1s continued to serve to the last days of Pennsy steam. From the Delmarva Peninsula to Rose Lake Yard in East St. Louis, from trimming the westbound hump bowl in Enola to "snapping" passenger trains up the east slope to Gallitzen, the L1 could be found in just about every corner and every sort of assignment on the vast system. The Pennsy was also fond of pairing the "Lollipops" with other power to balance starting tractive effort and higher speed mainline running. The appearance of the locomotives changed little over the years however, with the addition of power reverse and stokers being the biggest changes. And a good number remained "hand bombers" their entire lives to the chagrin of firemen. Even the front-end revisions following WWII eluded a good number of the class. But there were some notable exceptions including some experiments with boosters, oil burners, early Trainphone antenna systems (reflected on #1369 here) and even one converted to a water tube boiler. The Pennsy sold a handful of the locomotives to other lines in the 1940s. Three went to the Santa Fe in 1945 where they were converted to oil burners and ran with Santa Fe tenders until retirement in 1947. The DT&I (owned by the PRR at the time), Lehigh & New England, Montour and Cambria & Indiana also picked up two or three each. One locomotive from the group, No. 520, was selected to represent the class in the railroad's historical collection and is preserved today at the Railroad Museum of Pennsylvania. New to the Lionel roster, the L1 has been extensively upgraded with LEGACY and Bluetooth control as well as Lionel's RailSounds system, whistle steam, and all of the other great features you've come to expect as "standard" in a Lionel locomotive. Pennsylvania locomotives are offered in both "Prewar" and "Postwar" versions typical of the years before and after WWII, although many of the locomotives retained the earlier look into the 1950s. No. 1369 features the experimental Trainphone antenna application. Our Santa Fe version includes a brass tender replicating their appearance in service. There's no job too large or small for this landmark locomotive - and no reason not to add one to your roster!
LEGACY® Control System equipped – able to run in LEGACY® Control mode, in TrainMaster Command Control mode, or in Conventional mode with a standard transformer
Bluetooth® Control - Operate with Universal Remote or LionChief® App
Lionel Voice Control (LVC) - run your locomotive by speaking commands into your phone via LionChief® App
Odyssey® II Speed Control
IR Transmitter that works with LCS SensorTrack™
Whistle steam
Road-specific details
Powerful maintenance-free motor with momentum flywheel
Wireless Tether™ connection between locomotive and tender
ElectroCoupler™ on rear of tender
Directional lighting including operating headlight and back-up light on rear of tender
Bicolor illuminated classification lights on the front of locomotive where applicable. Using a Legacy controller, change the color of the classification lights between white or green
Traction tires
Interior illumination in cab
Die-cast metal locomotive body, pilot, and trucks
Die-cast metal tender body and trucks
High level of separately applied metal details
Separately applied builder's plate
Synchronized fan-driven smoke unit
Adjustable smoke output
Authentically detailed cab interior
Cab "glass" windows
Engineer and fireman figures
LEGACY® RailSounds® sound system featuring:
CrewTalk™ dialog with different scenarios depending on whether the locomotive is in motion or stopped
TrainSounds that mimic operating dialog when the locomotive is in motion or stopped
Six official railroad speeds with CrewTalk dialog
DynaChuff™ synchronized with 32 levels of intensity as the locomotive gains speed
LEGACY® "Real-Time Quilling Whistle" control with instant response for realistic signature "quilling" and correctly timed warning signals - 5 different whistles to choose from for a more customized experience.
Single hit or continuous mechanical bell sounds - 5 levels of bell pitching for customized sounds
Sequence Control: plays the sound effects of an entire trip, including warning sounds and announcements, based on the movement and speed of the locomotive
Current speed and fuel dialog, coal or oil loading sound effects

PRODUCT SPECIFICATIONS
Rail Line: Pennsylvania
Road Number: 1343
Gauge: O Gauge
Power: Electric
Engine Type: Steam
Min Curve: O42
Dimensions: Length: 21 ¾â?
Most Recent Catalog: 2022 C2

WARNING: CHOKING HAZARD - SMALL PARTS! NOT INTENDED FOR CHILDREN UNDER 3.
Customer Reviews
This product has not yet been reviewed.