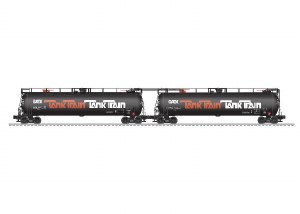 TANKTRAIN 2 PACK ORANGE
Fitted with flexible piping between the cars, blocks of Tank Train tanks could be unloaded from a single connection to make unloading faster and facilities more compact. Commonly associated with the " "oil can" " trains on the Southern Pacific, Tank Train operations can be found all across North America and continue today. Add or expand on these interesting operations on your layout with these new sets! End car sets feature the correct piping for the lead and tail car, including a working End of Train Device on the coupler of the last car. Add intermediate cars to stretch your consist with 8 numbers available in each scheme! Typical cuts of cars range from three to thirteen cars.

2-Packs Feature:
1 "A" end car
1 "B" end car with working EOT
1 Connecting hose / pair
All Cars Feature:
Die-cast metal trucks with rotating bearing caps and operating couplers
Flexible connecting hose between tank cars
Separately applied metal details

PRODUCT SPECIFICATIONS

Rail Line: Tank Train
Road Number: 48651, 48662
Gauge: O Gauge
Scale Type: Scale
Power: Electric
Min Curve: O31
Dimensions: Length: 31" (15 1/2" each)

WARNING: CHOKING HAZARD - SMALL PARTS! NOT INTENDED FOR CHILDREN UNDER 3.
Customer Reviews
This product has not yet been reviewed.