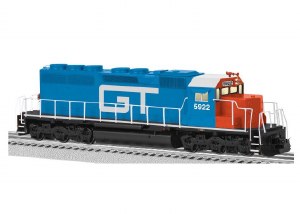 GRAND TRUNK SD40 #5922 LEGACY
Built To Order

One of the most successful diesel locomotives of all time

With over 1,200 locomotives produced, the SD40 could be found on railroads large and small all across North America in a wide variety of services. After more than 40 years of service, some are still going strong!

Lionel is proud to bring SD40s that capture the many production changes over the years, and with the highest level of road name specific detail we've ever offered on a locomotive model!

BUILT TO ORDER


Features

Southern Pacific Model Specific Features
81" short hood, ratchet / SP lights
Straight grab irons
Smooth battery boxes
Standard brakes
Diamond mesh radiator
Snow plow pilot
4000 gallon fuel tank
Flexicoil trucks, all low cylinders
Standard fans
3 chime horn on cab roof
Handbrake - ratchet short hood
Bell on cab roof
Long hood light package
Locomotive Features
LEGACY Control System equipped – able to run in LEGACY Control mode, in TrainMaster Command Control mode, or in Conventional mode with a standard transformer
Odyssey II Speed Control with On/Off switch
LEGACY RailSounds sound system featuring:
-CrewTalk dialog and TowerCom announcements, each with different scenarios depending on whether the locomotive is in motion or stopped
-Six official railroad speeds with Crew-Talk dialog
-Eight diesel RPM levels
-LEGACY "Real-Time Quilling Horn" control with instant response for realistic signature "quilling" and correctly timed warning signals
-Single hit or continuous mechanical bell sounds
-Sequence Control plays the sound effects of an entire trip, including warning sounds and announcements, based on the movement and speed of the locomotive
-Current speed and fuel dialog, refueling sound effects
IR Transmitter for SensorTrack
Dual powerful maintenance-free motors with momentum flywheels
Front and rear ElectroCouplers
Traction tires
Refined Conventional Transformer Control Mode with lower starting speeds
Fan-driven smoke unit
Adjustable smoke output
Directional lighting including LED headlights
Operating marker lights on front and rear
Illuminated number boards
Lighted cab interior
Die-cast metal trucks, pilots, and fuel tank
Metal frame
High level of separately applied metal details
Engineer and conductor figures

Road Number: 5922

Gauge: Standard O Scale

RailLine: Grand Trunk

Minimum Curve: O-54

WARNING: CHOKING HAZARD - SMALL PARTS! NOT INTENDED FOR CHILDREN UNDER 3.
Customer Reviews
This product has not yet been reviewed.