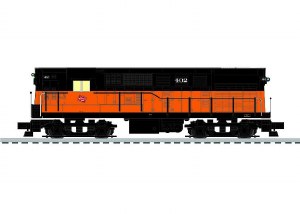 MILWAUKEE ROAD H16-44 #402
BUILT TO ORDER

Clad in a car body designed by Raymond Loewy, the H16-44 offered 1600 horsepower from its Fairbanks-Morse opposed-piston engine. The model would become one of FM's best sellers with 299 being built for nearly two dozen North American railroads.

The Lionel LEGACY H16-44 is back in all new road numbers, paint schemes and road names.

LEGACY® Control System- equipped - able to run in LEGACY™ Control mode, in TrainMaster Command Control mode, or in Conventional mode with a standard transformer
Odyssey® II Speed Control with On/Off switch
LEGACY RailSounds® sound system featuring:
-CrewTalk™ dialog and TowerCom™ announcements, each with different scenarios depending on whether the locomotive is in motion or stopped
Six official railroad speeds with CrewTalk™ dialog
Eight diesel RPM levels
LEGACY™ "Real-Time Quilling Horn" control with instant response for realistic signature "quilling" and correctly timed warning signals
Single hit or continuous mechanical bell sounds
Sequence Control: plays the sound effects of an entire trip, including warning sounds and announcements, based on the movement and speed of the locomotive
Current speed and fuel dialog, refueling sound effects
IR Transmitter for SensorTrack™
Dual powerful maintenance-free motor with momentum flywheel
ElectroCoupler™ on front and rear
Traction tires
Refined Conventional transformer Control Mode with lower starting speeds
Fan-driven smoke unit
Adjustable smoke output
Directional lighting including LED headlights
Marker lights on front and rear
Illuminated number boards
Lighted cab interior
Die-cast metal trucks, pilot, and fuel tank
Metal frame
High level of separately applied metal details
Engineer and conductor figures

PRODUCT SPECIFICATIONS

Rail Line: Milwaukee Road
Road Number: 402
Gauge: Standard O
Scale Type: Scale
Engine Type: Diesel
Min Curve: O31
Dimensions: 15" long
Most Recent Catalog: 2016

WARNING: CHOKING HAZARD - SMALL PARTS! NOT INTENDED FOR CHILDREN UNDER 3.
Customer Reviews
This product has not yet been reviewed.