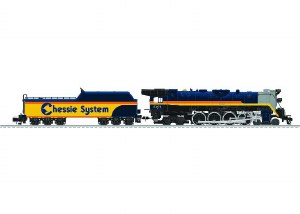 CHESSIE STEAM SPECIAL #2102 T1
BUILT TO ORDER

In 1976, with America celebrating its Bicentennial, railroads from coast to coast got into the spirit with patriotic locomotives and cars. But no train was more special than the American Freedom Train. A rolling museum, each of the Freedom Train's cars told part of the American experience through artifacts, images and sounds.

A train this special could only be powered by steam! And several locomotives had a chance to lead the consist as it traveled across the continent. After all, the train itself was part of the experience!

Now you can bring the excitement of the Freedom Train to your town!

LEGACY® Control System- equipped - able to run in LEGACY™ Control mode, in TrainMaster Command Control mode, or in Conventional mode with a standard transformer
Odyssey® II Speed Control with On/Off switch
LEGACY RailSounds® sound system featuring:
-CrewTalk™ dialog and TowerCom™ announcements, each with different scenarios depending on whether the locomotive is in motion or stopped
Six official railroad speeds with CrewTalk dialog
DynaChuff™ synchronized with 32 levels of intensity as the locomotive gains speed
LEGACY "Real-Time Quilling Horn" control with instant response for realistic signature "quilling" and correctly timed warning signals
Single hit or continuous bell sounds
Sequence Control: plays the sound effects of an entire trip, including warning sounds and announcements, based on the movement and speed of the locomotive
Current speed and fuel dialog, coalloading sound effects
IR Transmitter works with LCS SensorTrack™
Powerful maintenance-free motor with momentum flywheel
Wireless Tether™ connection between locomotive and tender
ElectroCoupler™ on rear of tender
Directional lighting including operating headlight and back-up light on rear of tender
Illuminated classification lights on the front of locomotive
Traction tires
Interior illumination in cab
Die-cast metal locomotive body, pilot, and trucks
High level of separately applied metal details
Separately applied builder's plate
Synchronized fan-driven smoke unit
Adjustable smoke output
Authentically detailed cab interior
Cab "glass" windows
Engineer and fireman figures
Whistle Steam smoke effect
Kinematic drawbar for close coupling

PRODUCT SPECIFICATIONS

Rail Line: Chessie System
Road Number: 2102
Gauge: Standard O
Scale Type: Scale
Engine Type: Steam
Min Curve: O54
Dimensions: 22" long
Most Recent Catalog: 2016

WARNING: CHOKING HAZARD - SMALL PARTS! NOT INTENDED FOR CHILDREN UNDER 3.
EARLY BIRD SPECIAL
Customer Reviews
This product has not yet been reviewed.