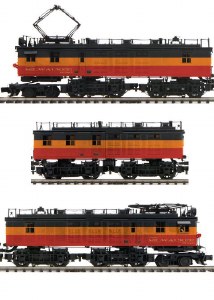 MR EF-3 A-B-A ELECTRIC W/PS3.0
EF-3 A-B-A Electric with Proto-Sound 3.0 - Milwaukee Road

Features:

•Intricately Detailed, Die-Cast Metal Bodies
•Die-Cast Truck Sides, Pilots and Fuel Tank
•Die-Cast Metal Chassis
•Metal Handrails and Horn
•Metal Body Side Grilles
•(2) Handpainted Engineer Cab Figures
•Authentic Paint Scheme
•Metal Wheels, Axles and Gears
•(2) Remote-Controlled Proto-Couplers
•Prototypical Rule 17 Lighting
•Directionally Controlled Constant Voltage LED Headlights
•Lighted LED Cab Interior Light
•Illuminated LED Number Boards
•Lighted LED Marker Lights
•(2) Precision Flywheel-Equipped Skew-Wound Balanced Motors In Each A Unit
•Motorized Operating Pantographs
•Onboard DCC/DCS Decoder
•Locomotive Speed Control In Scale MPH Increments
•1:48 Scale Proportions
•Proto-Sound 3.0 With The Digital Command System Featuring Freight Yard Proto-Effects
• Unit Measures: 45 1/4" x 4 ª" x 2 ®"
• Operates On O-72 Curves

Diesel DCC Features:

•F0 Head/Tail light
•F1 Bell
•F2 Horn
•F3 Start-up/Shut-down
•F4 PFA
•F5 Lights (except head/tail)
•F6 Master Volume
•F7 Front Coupler
•F8 Rear Coupler
•F9 Forward Signal
•F10 Reverse Signal
•F11 Grade Crossing
•F12 Panto Auto/Manual
•F13 Front Panto Up/Down
•F14 Rear Panto Up/Down
•F15 Idle Sequence 2
•F16 Idle Sequence 1
•F17 Extended Start-up
•F18 Extended Shut-down
•F19 Train Marker
•F20 Ditch Light Flash/Std
•F21 One Shot Doppler
•F22 Coupler Slack
•F23 Coupler Close
•F24 Single Horn Blast
•F25 Engine Sounds
•F26 Brake Sounds
•F27 Cab Chatter
•F28 Feature Reset

WARNING: CHOKING HAZARD - SMALL PARTS! NOT INTENDED FOR CHILDREN UNDER 3.
Customer Reviews
This product has not yet been reviewed.