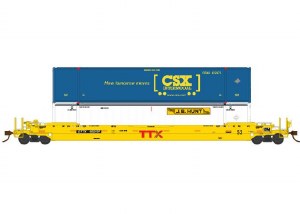 TTX 53' WELL CAR W/2 CONTAINER
TRAILER TRAIN - FORWARD THINKING LOGO

ROAD NUMBER #654789

The Gunderson 53' single-unit double-stack well car was built at Trenton Works, Nova Scotia, between 2003-4 and is the latest iteration of the famous high-capacity Husky-Stack design. With every intermodal train including at least three or four cars of this type, it was arguably one of the biggest gaps in the range of well car models. This is accompanied by a newly tooled 53' Hyundai high-cube container with riveted sheet/post sides and optional heater box/fuel tank.

The 74ft long (over strikers) Husky-Stack car can carry 20' to 53' containers in the well with containers from 40' to 53' in the top position. Over 2,600 were built for the TTX Company (DTTX) and Canadian Pacific (CP) and they are seen all over the USA and Canada. We are also releasing the car painted in the new TTX 'Forward Thinking' livery given to the almost identical 48' Husky-Stack cars extended to 53' from 2009. 1,100 of these were reworked by Gunderson between 2009-2010.

Offered in six numbers per paint scheme along with undecorated. Each well car will come with two 53' high cube containers randomly selected from the eight schemes.

Well cars features include a die-cast body with injection moulded plastic running boards, end handrails and brake detail. The trucks are a new free-rolling 70-ton design with three springs visible. separate in-line brake shoes and 33'' wheels . The car is factory-fitted with metal Macdonald-Cartier knuckle couplers.

IMAGE SHOWN IS A REPRESENTATION. THE ACTUAL ROAD NUMBER IS IN THE PRODUCT DESCRIPTION.

WARNING: CHOKING HAZARD - SMALL PARTS! NOT INTENDED FOR CHILDREN UNDER 3.
Customer Reviews
This product has not yet been reviewed.