SPIRIT OF UP SD70Ace W. PS3
Sale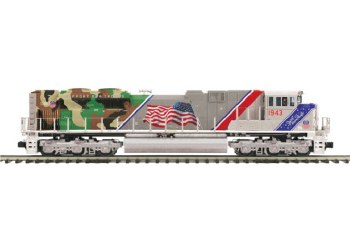 MTH TRAINS; MIKES TRAIN HOUSE
SPIRIT OF UP SD70Ace W. PS3
Product code: 8023801
$219.99
Description
October 27, 2017 - On October 19th, the Union Pacific Railroad revealed a commemorative locomotive honoring the U.S. Armed Forces at San Antonio's Sunset Station. UP's No. 1943 will kick off the railroads Salute to the Military Tour with a series of community displays across Union Pacific's network.

The locomotive's unique livery is based on the schemes and colors from each branch of the U.S. Military and is a recognition on the railroad's part of the military service of many Union Pacific employees. In fact, 17 percent of UP employees have served in the military - one of the reasons the Union Pacific has been recognized in the Best Companies for Veterans Top 10 list the last two years running.

M.T.H. Electric Trains will be releasing the Union Pacific Spirit SD70ACe in cab No. 1943 in three versions; a Premier Line O Scale Model, a semi-scale RailKing Imperial O Gauge model and an HO model in both a DCC-Ready version and a Proto-Sound 3.0 28-Function DCC equipped version. Each will be offered with a series of freight cars decorated in the colors and logos of each Military branch. An additional car will also be featured in POW livery as a nod to Union Pacific's inclusion of the POW/MIA symbol at the rear of the locomotive.

ROAD NUMBER #1943

Features:

Intricately Detailed ABS Body
Die-Cast Metal Chassis
Metal Handrails and Decorative Horn
Moveable Roof Fans
Metal Body Side Grilles
Detachable Snow Plow
(2) Engineer Cab Figures
Authentic Paint Scheme
Metal Wheels and Axles
RP25 Metal Wheels
(2) #158 Scale Kadee Whisker Couplers
Prototypical Rule 17 Lighting
Directionally Controlled Constant voltage LED Headlights
Lighted Cab Interior
Illuminated Number Boards
Operating Ditch Lights
Powerful 5-Pole Precision Flywheel Equipped Skew-Wound Balanced Motor
Locomotive Speed Control In Scale MPH Increments
Operates On Code 70, 83 and 100 Track
1:87 Scale Proportions

Proto-Sound 3.0 equipped locomotives can be controlled in command mode with any DCC compliant command control system. While the user won't have access to all of the incredible features of Proto-Sound 3.0, independent control over the locomotive is possible. This means you can continue to use your existing DCC controller to independently control your other DCC equipped locomotives in addition to your Proto-Sound 3.0 locomotive on the same track at the same time.

When using a DCC controller, the following Proto-Sound 3.0 locomotive features are accessible:

F0 Headlight
F1 Bell
F2 Whistle/Horn
F3 Start Up/Shut Down
F4 Rear Coupler
F5 Front Coupler
F6 Engine Sounds On/Off
F7 Sound Volume
F8 Ditch Lights Auto/On/Off
F9 Forward Signal
F10 Reverse Signal
F11 Grade Crossing Signal
F12 Cab Light On/Off
F13 Extended Start Up
F14 Extended Shut Down
F15 Rev Up
F16 Rev Down
F17 Coupler Slack Sound
F18 Coupler Close
F19 One-Shot Doppler
F20 Feature Reset
F21 Idle Sequence 1
F22 Idle Sequence 2
F23 Idle Sequence 3
F24 Ditch Lights Auto/On/Off
F25 Brakes Auto/Off
F26 Cab Chatter Auto/Off
F27 Clickety-Clack Auto/Off
F28 Coupler Slack Sound
With The Digital Command System Featuring: Freight Yard Proto-Effects
Unit Measures:10 9/16" x 1 7/16" x 2 3/16"
Operates On 18" Radius Curves

WARNING: CHOKING HAZARD - SMALL PARTS! NOT INTENDED FOR CHILDREN UNDER 3.
Reviews
Customer Reviews
This product has not yet been reviewed.